Case study – Safety Strategies for disability services
Behaviour support – a practical approach to deal with challenging behaviour
Karen Armstrong's Safety Strategies has been training disability services support workers for over 20 years, with outstanding results in assault prevention.
Safety Strategies has trained over 2,000 frontline support staff in this uniquely practical approach that reflects best practice orientations and incorporates person-centred positive behaviour support practices.
This training provides a seamless integration between the highest levels of client service and personal protection, and is consistent with ADHC Policy and Practice guidelines.
Ageing Disability and Homecare
CareSouth
Castle Personnel
Crowle Foundation
Flintwood Disability Services
Holdsworth
Interchange
Liverpool Health Service
Minimbah
Ningana
Northcott
Northside
Seton Villa
St George IDF
WAALCA
Woodville Community Services
Risk profile
In their daily work, disability support workers may encounter aggressive behaviour ranging from verbal abuse through to physical assault.
While this is usually only a minority of the clients they deal with, it is important to equip staff with the skills to deal with these situations confidently and professionally.
Safety Strategies training provides the skills for prevention, defusing and protection for a full range of challenging behaviours including:
Pushing
Scratching
Biting
Punching
Kicking
Grabbing
Hair pulling
Pinching
Objects thrown
Attack with weapons.
Our solution — effective hands-on one or two-day workshops
Safety Strategies conducted one-day, two-day and refresher workshops tailored to suit each organisation's specific staff group needs:
Residential, community, day programs, work placements
Challenging behaviour
Unpredictable attacks
Aggressive clients
Verbal abuse
Conflict between clients
Outings, travelling in vehicle
Workshop topics
Foundation elements of personal safety
Physical protection skills
Legal guidelines of self defence
Early warning signs of aggression
Positive body language
Effective verbal responses
Professional image
Application to workplace-specific scenarios
Benefits
Reduction of time lost through injury and workers compensation claims
Staff who are trained effectively remain calm and professional in challenging situations
Increased morale, confidence, productivity and goodwill
Better trained personnel are less likely to be traumatised by aggressive incidents, thus reducing absenteeism, stress leave and staff turnover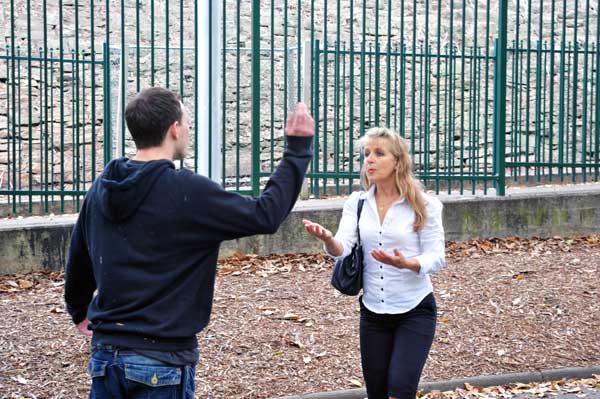 Evidence of transfer of skills to workplace
"I had a client approach me aggressively and with the simple action of flowing hand movements and soft gestures was able to redirect straight away."
"A client approached me, he was signing home. (At this point, client will generally hit out at staff.) By using the prayer hand position, I was able to redirect him. Other staff members have also had success with this technique."
"Client was surprised at his inability to hit me and simply gave in after two attempts."
"I learnt that most difficult situations (abuse, assault) have a suitable way to handle them and thus avoid injury. Very valuable information."
"I now feel confident that I will respond in a legal, ethical way in the event of an attack so the chance of anyone being hurt is minimised."
The results
Cost savings and improved WH&S risk management
Prevention of assault and critical incidents is essential, and in disability services, there is often the possibility of aggressive behaviour.
While threatening behaviour and verbal abuse do not always result in physical injury, the ensuing stress can result in workers compensation claims exceeding those for physical incidents. Training is one of the vital factors in pro-active risk management.
Safety Strategies' training delivered unmatched cost effectiveness. It enabled disability organisations to fulfil their WH&S requirements to address the risks faced by support workers.
Survey results
Safety Strategies has conducted several surveys 6 – 12 months after staff were trained to find out how the skills are being transferred into the workplace.
100% were able to identify early warning signs.
100% have used the positive body language strategies.
100% felt they could provide better service to clients.
94% felt safer and more confident.
92% were calmer when defusing aggression.
One of the disability services organisations Safety Strategies assisted had eight workers compensation claims from assault in the year before Safety Strategies' training commenced. This was reduced to ZERO in the following years as a direct result of the training. This organisation also received substantial reductions in their workers compensation premiums as a result of this reduction in claims. Although their injury rate was completely reduced, their reporting rate for incidents has gone up, because staff felt confident and trusting about the benefits of reporting.
These skills show you how to defuse situations with respect and dignity towards our clients.
Best skills I have learnt out of any course. I have learnt how to prevent myself from being attacked. I liked the way the workshop integrated the psychological and physiological aspects of safety.
The most important thing learnt is the peaceful safety strategies to use when there is a risk of a threat. Very grateful for the energy invested by the trainers.