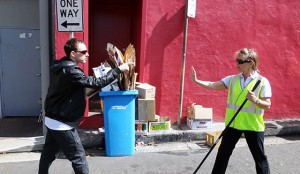 We are delighted to announce that Safety Strategies has been awarded new four year contracts with two highly valued and longstanding clients – the Council of the City of Sydney and Roads & Maritime Services.
Our previous work with these organisations has established a solid foundation of personal safety skills for workplace violence prevention. Both new contracts include refresher training, and will provide an opportunity to make a significant contribution to increasing safety culture within these organisations.
Safety Strategies has a full team of qualified and experienced instructors, including back-up personnel, providing the capacity to welcome new clients as well as to fulfill our existing clients' needs to the highest quality standards.
Our training delivers real benefits in building confidence and morale, as well as documented results in assault prevention. It is recommended for all personnel who are dealing with any type of aggressive and threatening behaviour.
Safety Strategies training has provided not only a detailed and effective tool for our employees, but has also excelled in the "after sales" component with dedicated resources always available to assist/support employees as well as management through operational issues that may arise.  Matthew Goebel, General Manager, Operations & Service Delivery, Transit Australia Group
As skilful in her practical application of Wing Chun as she is in her effectiveness as a promoter, manager, and teacher of the art, she has rightly earned the title, "Wing Chun's Leading Lady" … continue reading  'A Tribute to Wing Chun's Leading Lady | An Outsiders View'  by Kevin Earle
Please contact me on 0408 615 559 or at karen@karenarmstrong.com.au  if we can assist with your training and WHS requirements.
Please visit our website to access our updated publications: https://www.karenarmstrong.com.au/publications/
————————————-
Karen Armstrong
Director | Principal Instructor
KAREN ARMSTRONG'S SAFETY STRATEGIES
Mobile: 0408 615 559
Email: karen@karenarmstrong.com.au
Web: www.karenarmstrong.com.au