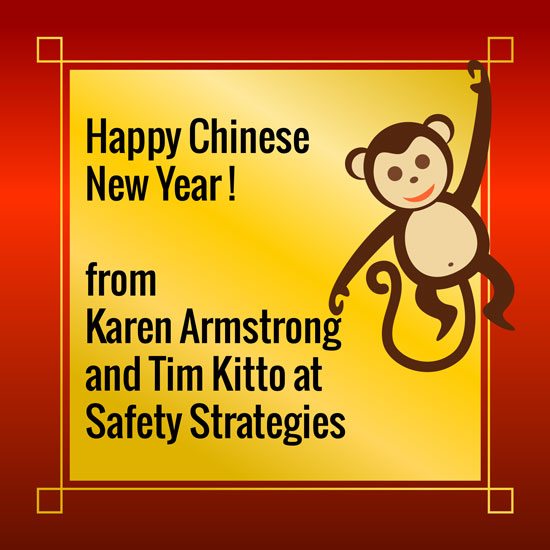 In Chinese astrology, each year draws its nature from the animal of that year. The year of the Fire Monkey starts on February 8, 2016. One of the Monkey's qualities is the ability to find unconventional solutions to old problems. Look forward to a fast paced and highly motivated year.  Use communication, humour and wit to get through stressful times with grace and ease. Daring to be different can lead to success. This could be the year to break free and follow your heart's desire. Increase your confidence with us!
Building resilience
Resilience is different from endurance and perseverance. It's the ability to bounce back. Luckily, resilience can be learnt. It's not an elusive quality that only the lucky few are born with. How do you learn it?
Stress is essential!
You've heard for years about the dangers of stress – the effects on your health, finances, relationships and life overall. There is a constant stream of advice on stress management and minimization. Let's take a new approach in 2016:
Welcome and embrace the inevitable stresses in your life, and use them as opportunities to become resilient.
Engaging with stress, and learning to make choices is an awesome way to grow! This isn't just a fanciful 'new age' idea –it's based on solid scientific fact.
Stress wood
This is an amazing inner substance developed in trees that are subjected to extreme weather conditions. Trees grown in the safety of a laboratory do not develop this strong internal core that enables them to survive buffeting by wind and wild weather. Without stress wood, a tree can grow quickly, but it cannot support itself fully. It cannot withstand normal wear and tear, and survive. Like trees we need some stress in order to thrive in the long run.
Resilience in 4 simple steps
Have a horizon of hope, something to look forward to – a personal or professional goal, from planning a holiday with family to studying towards a promotion.
Know yourself – this age-old wisdom means mindful self-awareness: what are my limits? When should I walk away? Should I speak up or remain silent?
Be aware of the lessons on offer – reflect on how you handled each event: what worked well and what you could do differently next time?
Be part of a community – at work, at home and in your social life. Develop teamwork strategies with colleagues, family and friends with honest communication. Show them who you really are.
Turn toward the wind, make decisions and learn to adapt. Embrace stress to grow deeper roots, develop stronger skills, and become more successful.
New conference & workshop topics
Decoding the Predatory Mind
5 simple steps to create a safe, harmonious workplace.
Workplace conflict is costly in human and financial terms. Regardless of whether the conflict is internal – bullying, harassment, or external – abuse, intimidation, assault – the solutions are usually the same. Safety Strategies' uniquely positive and practical skills can be applied to prevent all forms of conflict and aggression.
Mindful resilience
Dealing with the stresses of verbal and physical aggression
Frontline staff and managers who are dealing with the public may experience abuse and aggression. Research shows that the resulting claims for psychological stress far outweigh those for physical injury. We work with organisations who care about their staff by providing effective training. Well-trained staff are happier, healthier and more productive. They take less days off work, have better customer service skills, and are more professional.
Feel free to contact Karen 0408 615 559 or karen@karenarmstrong.com.au, if we can assist in any way.